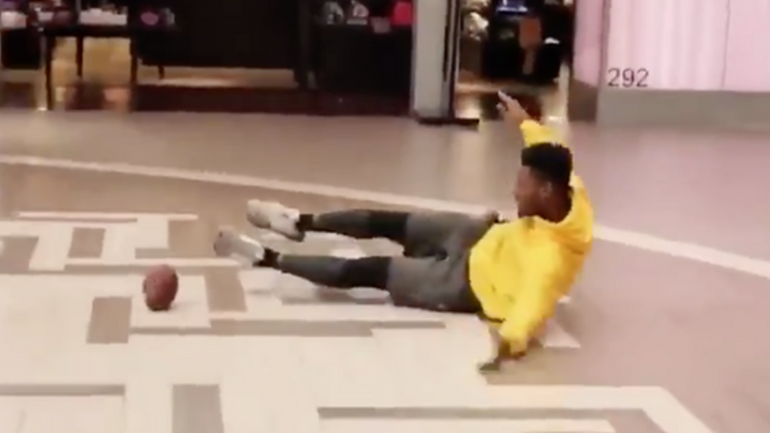 JuJu Smith-Schuster has already had an eventful offseason, one that included a trip to Hawaii before playing in his first ever Pro Bowl. JuJu also hit up the media circuit during Super Bowl week while discussing everything from his breakout 2018 season to possibly having to replace Antonio Brown as Pittsburgh's No. 1 receiver moving forward. As you can see below, Smith-Schuster also enjoyed a recent football game with fans inside a shopping mall.  
I've been really missing football, so I went and played in a mall. pic.twitter.com/mFAJVbCXCe


— JuJu Smith-Schuster (@TeamJuJu) February 24, 2019
Brown may be leaving Pittsburgh soon, Smith-Schuster is ready to follow in his footsteps. While he made it clear that he wanted Brown to return to the Steelers, Smith-Schuster, speaking to USA Today during Super Bowl week, made it clear that he would embrace the prospect at being Pittsburgh's No. 1 receiver moving forward. It appears, following Brown officially requesting a trade from the Steelers, that Smith-Schuster will get his chance at being the Steelers' top passing option moving forward. 
"Oh for sure, no doubt," JuJu said when asked about the possibility of being the team's No. 1 receiver moving forward. "As a kid, I always wanted to be the No. 1 guy. If the opportunity comes my way, I want to embrace it. Who doesn't want to be the No. 1 guy?"
JuJu also dismissed the notion that most of his success the previous two years was because of the attention that Brown draws from opposing defenses. 
"It's not about just one player," JuJu said. "It's about the team."
With that in mind, Smith-Schuster won't be asked to carry Pittsburgh's passing attack by himself moving forward. The Steelers will certainly draft someone to replace Brown, the second all-time receiver in franchise history. Pittsburgh has a tremendous track record when it comes to drafting receivers under GM Kevin Colbert, as the Steelers have selected Brown, Emmanuel Sanders, Mike Wallace, Martavis Bryant and Smith-Schuster over the past decade. Colbert also drafted Super Bowl XLIII Santonio Holmes after moving up in the 2006 draft. 
The Steelers will also expect to get a significant bigger contribution out of James Washington, who started to show signs of his potential near the end of what was an underwhelming rookie campaign for the team's second round pick in last year's draft. While he finished the season with just 16 catches for 217 yards, Washington was the team's leading receiver in Pittsburgh's Week 15 victory over the Patriots, catching three of four targets for 65 yards. With Brown inactive for Pittsburgh's Week 17 victory over Cincinnati, Washington caught all three of his targets for 64 yards while helping the Steelers defeat the Bengals, 16-13. 
James Conner, in his first year as a starter, also proved that he can be a valuable asset for Ben Roethlisberger in the passing game in 2018, catching 55 of 71 targets for 497 yards and a touchdown. Rookie running back Jaylen Samuels was also a viable option in the passing game, catching three touchdown passes during his first season in Pittsburgh. The tight end duo of Vance McDonald and Jesse James also served as a significant part of the passing attack, as the duo combined to catch 80 passes for 1,033 yards and six touchdown. Steelers fans also shouldn't sleep on Ryan Switzer, who is looking to make a much bigger impact in the offense after signing with Pittsburgh just before the start of the 2018 season. 
Losing Brown hurts. There's just no way around that. But, considering the weapons Pittsburgh still has coming backing 2019, the Steelers are in a better position than anyone when it comes to replacing a talent like Brown, the NFL's most productive receiver over the past nine years. Brown will ultimately get his chance to prove that he can still be a prolific receiver without the Steelers, while JuJu and the rest of his teammates will be motivated to show what they can do without their former teammate in 2019. 
Source: www.cbssports.com